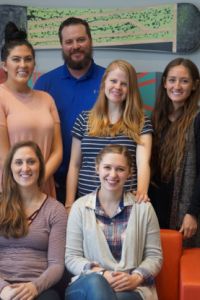 Great Experiences Begins with Great Staff
Telos finds, recruits and loves our staff. They put countless hours, including their hearts and souls into the program. It is all about the students and the passion shows through every day from our staff. They laugh, work, play and sometimes even cry with our students. In the end we hope it builds a foundation that students can stand on for the rest of their lives.
The Telos Team
All
Center St
Leadership
Therapists
Geneva
Admissions
Executive Director, Center St Campus
Barry Fell
"Barry is a warm and self-revealing person with whom both our son, and us are able to easily relate. His flexibility in the treatment process allows Barry to re-evaluate therapeutic approaches in order to identify and use those that will work best with our son. However, he has also not been afraid to push our son, and us out of our 'comfort zones'. Through his insightfulness, Barry never misses an opportunity to teach 'life lessons' to our son regardless of where they happen to be at the time. Our son has consequently been able to progress at Telos, and advance towards the achievement of his goals that were outlined for him within the first month of his admission." – parent
As a veteran in the mental health industry more than 20 years, his story began with his Masters in Social Work from University of Utah. Currently the Executive Director, Mentor and Visionary, he runs one of the most vibrant, caring programs in the industry. His passion for Telos is evident in his belief that everyone deserves a chance at becoming their best or as Telos says "Ultimate Potential".
Barry has taken the Center Street Campus to new heights as students and families come to experience the hope that Telos offers teen boys and has offered to over 900 families. Each family comes with specific individual needs and hopes. In a methodical and clinically-sophisticated manner walk through the individual needs to remove the hurdles the student and family face as barriers to success. Barry maintains a mind-boggling team of experts all assembled to do one thing…support the student and his family to help them accomplish some of the most rewarding months of their lives.
Education:University of Utah, Master of Social Work
Experience:Active therapist, 20 years
Passion:Advocate for teen boys and helping them find themselves
Executive Director, Geneva Campus
Scott Downs
"I've had many therapists. Scott is the only one I couldn't control or push away. I'll always be grateful for his influence in my life." -student
If you are considering residential care for your young adult, consider that all great results comes down to a culture of excellence that begins with leadership. Scott is that leader. An outstanding steward of parental trust and reliability. Your children will be treated like his children and you will find that Telos is everything you hoped it would be because of Scott and his team. Scott runs a premium program for young adults (over 18) that is considered the best in the industry by many. As Executive Director his highly trained and certified team, use proven, clinically-sophisticated modalities to deliver astounding, even life-changing results for students and families.  With nearly a decade of clinical experience he and his team are well positioned to give students an experience that will be a turning point in their lives. Scott is a Licensed Marriage and Family Therapist working with families and teens professionally, he knows well, parent-teen conflict, he treats cognitive restructuring and has spent years unraveling oppositional defiant teens and young adults to name a few. Scott's team at Telos U has one goal, and that is to give the best individualized answers to emotional hurdles and then enable a launch into adulthood with a principle-based life, characterized by insightful choices.
Education:BS in Psychology Masters, Marriage and Family Therapy
Passion:Excellence at every level of individual treatment
Clinical Expertise:Parent-Teen Conflict, Oppositional Defiance, Cognitive Restructuring and more
Clinical Director - Center St Campus
Nathan Sellers
"Nathan is warm and friendly. He helped us to stay on track during sessions and is there for us if we need him. Our sessions always had an agenda and we always knew what to expect for the following week. I believe Nathan has helped me learn how to be a better listener and communicator with our son (and all those I am surrounded by daily). I have become a better parent to my two girls at home. I see Telos and Nathan as being a life changing force for both our son and our entire family." -parent
Nathan has been with Telos for more than a decade.  His passion is working with young people and helping them find peace, direction, and meaning in their lives.  Academically Nathan graduated from Brigham Young University with both a Psychology undergrad and Masters in Social Work. He approaches therapy with genuine mindset that feeling cared for is required before someone is motivated to change. Willingness to change comes differently to everyone, yet when ready, it takes experience to softly find the path that works best individually. Nathan employs a relational, straight forward and logical approach to the work he does.  Modalities include CBT, Motivational Interviewing, Family Systems, DBT, and ERP. Primarily, the focus is to uncover what approach is going to work best for each student given their personality and presenting challenges. The clinical team that Nathan directs are all equally motivated and skilled to succeed. What sets the Telos Academy – Clinical Team apart is a universal desire and goal to build relationships first and really see the person, the real person who needs support, love and time to heal.
Nathan leads by example with kindness, healthy habits and active lifestyle and encourages his team and students to do the same. At least twice per year, he competes in triathlons, side-by-side with Telos students.
Education:Psychology, Brigham Young University, Masters Social Work, Brigham Young University
Specialty:Passionate about helping young people find answers and peace
Clinical Expertise:CBT, Motivational Interviewing, Family Systems, DBT, and ERP
Clinical Director - Geneva Campus
Trevor Earl
"Trevor was able to see our child differently than any prior therapist had and those insights allowed him to offer successful alternative styles of treatment that had never before been presented."  -parent
Trevor brings over a decade of experience in residential treatment, beginning as a residential staffer and working into the role of a therapist upon graduation. Prior to Telos, Trevor published research on Best Practices in Residential Therapeutic Settings and evangelizes those principles, benefiting students and staff at Telos and currently is an adjunct professor in a Mental Health Counseling, Masters Program at Westminster College.
Working with clients under numerous challenges from anxiety/depression to trauma and oppositional-defiance, Trevor's strengths lie in his clinical excellence and as the Clinical Director at Telos U brings a wealth of knowledge and an engaged leader, with the ability to clinically move the mission of Telos forward. Trevor's passion for youth is evident in his academic rigor and professional accomplishments that benefit youth.
Education:Clinical Mental Health Counselor, Doctoral Candidate-Oregon State University
Specialty:Passionate about helping his team deliver the highest level of care
Clinical Expertise:Experiential, Acceptance Commitment Therapy, EMDR, Psychodynamic Approaches, Value Based, Cognitive-Behavioral
Admissions Director, Board Member
Kristin Williams
"As the Admissions Director, I saw Kristin as the face of Telos. Now that my son has been at Telos, I see that her love and commitment to excellence is truly representative of Telos as a whole." – parent
Kristin Williams is a board member and packed with enthusiasm for our students. Not a day goes by that Kristin is not laughing with or "high-fiving" students on campus. Her attention to detail is what puts every mom's heart at peace, knowing that Kristin is watching out for their child. Kristin joined Telos from the public school system of 15 years which includes being the principal at Mound Fort Middle School / Junior High. She is the former director of the Family Community Resource Center at Central Middle School, and has also worked as a counselor at Lewis Elementary School. Her passion for the mountains of Utah and being fit is a big part of Telos' recreation therapy. Kristin believes strongly in the individualized treatment model of Telos and brings her "A-Game" everyday so that each student can feel the love of concerned friends. Her academics include Master's degree in Counseling Psychology and an Educational Administration License from Utah State University.
Education:Educational Administration License - Utah State University
Passion:Advocate for youth to find sustainable wellness and tools for success
Outreach Director, Co-Founder
Tony Hansen
"Tony teaches us that no one is too important to serve. When I see him watering the plants, mowing the grass, and attending to more menial tasks, I am reminded that Telos is more about service than position." -staff
Tony is a California native with a big heart. His love for helping young men and their families find unity as they work toward achieving their potential, began years earlier in the struggles, relationships, and mentorship Tony experienced in his youth. This desire to serve led Tony to the world of mental health services, studying at Brigham Young University. He went on to get a Master's Degree at the University of Utah in Educational Psychology. After five years as a therapist in both wilderness and residential settings, Tony recognized a need for a school founded on relationships and individualized treatment. From this, Telos was born. This passion to help Telos continuously improve while keeping it focused on the founding principles has served Tony, Telos, and countless families over the last 15 years.
Education:Masters, Clinical Mental Health Counselor (CMHC, M.Ed)
Passion:Healthy living, nature and positive lifestyle
COO, Co-Founder
Tony Mosier
"Tony has the unique ability to see past surface complexities to the heart of an issue. With professionalism, kindness, expertise, and great wisdom he approaches all aspects of his work at Telos. He saved my son's life, and the organization he helps lead has saved hundreds of others." -parent
Tony loves working with youth. By helping them reach their personal best, he reaches his. Achieving his undergraduate at Brigham Young University and a Masters of Science in Marriage and Family Therapy from Utah State University Tony immediately felt he had something to give back. Telos became a reality in 2004 because of Tony's (and partners) vision to build a program that would be a place that heals and re-builds families by offering a clinically-advanced approach to solving mental health needs. Tony has invested his entire career of 20 years working with youth and young adults of all ages and needs. In addition, Tony oversees the operations on all campuses and all services Telos offers. This is no small task, as the program demands individualized treatment. As a practicing therapist he has built and continues to build a therapeutic rigor that is second-to-none.
When not with his students he can be found developing system programming, overseeing quality improvement, or building innovative solutions. In addition Tony has accepted the nomination to serve as the NATSAP President (National Association of Therapeutic Schools and Programs) for the next 2 years.
Education:BYU Undergraduate, USU Masters Graduate
Passion:Helping youth and young adults
Affiliations:President of NATSAP
CEO, Co-Founder
Craig LaMont
"At the last Family Days triathlon my son was the last racer out of the water. I was standing on the dock and could see him slowly swimming in. As he got closer I could see someone swimming alongside him. To my surprise, Craig LaMont was in the water with Dan encouraging and coaching him along. It struck me–this is an amazing place filled with amazing people. The CEO of the company is in a wetsuit, in a lake, personally attending to my boy. Nowhere but Telos." -parent
Craig is passionate about life. He shares that passion with his family, friends, students and staff. Often Craig is heard in the halls of Telos humming a tune and at times singing out for all to hear.  Craig loves Telos. As a co-founder, there is nothing he won't do to help make a student's stay the very best experience possible. In addition his full-throttle approach to life also includes other interests like coaching youth athletics, board service, church service, community service, and outdoor sports.  Craig has founded, owned and operated a number of residential treatment centers and is known in the industry as a premier authority in consulting circles. Craig is a Licensed Marriage and Family Therapist and has worked in and studied the mental health practices since 1990. Graduate degree is a Master's in Marriage and Family Therapy at Brigham Young University.  Craig is passionate about serving teens and families and has dedicated his professional and volunteer time to that end.
Education:Masters, Marriage and Family Therapy
Passion:A dedicated passion to build a premium option for youth that really works
Human Resources Director
Chris Rogers
"Chris brings the perfect mixture of humanity and professionalism to Telos." -staff
A native of Oxford, England and enthusiastic about family. As a result, Chris sees the value in having a program that families can trust their children to. He is a fervent advocate of training and legal excellence. His second love besides his family is law and has built a thriving career around it. He has served with the esteemed law firm, Hepworth Murray & Associates, his practice included wholesale finance, securities, investment banking, and mortgage banking industries. Christopher is also credentialed and certified in Governance, Risk Management and Compliance to name a few.
Christopher has a softer side as well. He directs a large HR department caring for 300+ employees. He thrives on helping kids. Telos has opened opportunities that has expanded him both professionally and personally.
Academically accomplished with Juris Doctor degree from the University of Denver Sturm College of Law, and a BS in Business Management from Brigham Young University, Marriott School of Management.
Education:BS Business Management - Brigham Young University, Juris Doctor - University of Denver
Passion:Driven for business excellence and compliance for best family experience
Medical Director
Dr James Palmer, DO
"My son came to Telos having tried nearly every therapy and medication known to man. We had tried so many interventions, the waters were muddied as to what was effective and what wasn't. Dr. Palmer took a careful and conservative approach to understanding my son's psychiatric needs. He worked closely with the other professionals at Telos to simplify and streamline the medicines until we had a clear picture of what was needed." – parent
Dr James Palmer brings a substantial background in mental health for teens and young adults that Telos thrives on. His passion for helping kids is evident in his attention to detail and outcomes.  Each student brings a unique blend of hopes, fears and needs and Dr Palmer spends the needed time with each student to help stabilize and support each need.The Telos vision asserts that "diagnostic precision" is a key objective in each student's treatment. Dr. Palmer takes a conservative stance regarding diagnoses and patiently works toward a deep and comprehensive understanding of what each student is dealing with.
Education:Medical School - Des Moines University, DO / General Psychiatry Residency - Maricopa Integrated Health System / Child and Adolescent Psychiatry Fellowship - Cambridge Health Alliance/Harvard Medical School
Passion:Clinical excellence, diagnostic precision and understanding each student's needs
Certifications:American Board of Psychiatry and Neurology Certified
Director of Psychiatry
Dr Janet McKay
"While touring Telos U we met with Janet. She gave us the most comprehensive professional interview we'd ever received. By the end of our time with her we knew she understood our son like few ever have. Her careful attention to the details assured us our son would be given the best Telos has to offer."  -parent
A devoted healing professional, Janet has worked in the residential treatment industry for over 20 years. She has also spent time in a thriving private practice within the IHC network. Janet is uniquely qualified to work with teens and young adults who struggle with processing issues and complex clinical profiles. Her kind and focused attention gives students an opportunity to share, be heard and learn, so they can progress and effectively advocate for themselves. Having worked with hundreds of students over the years, she is keenly aware of the need to look at each student holistically–understanding the impact of brain chemistry, brain wiring, learned behaviors, trauma, addictions, identity and personality, in order to effectively treat the whole person. She joined Telos at the onset of the Geneva Campus and has enjoyed a deep and influential role in shaping its innovative treatment model for young adults.
Education:NP-P (Psychiatric Nurse Practitioner): Bachelor of Science degree, University of Iowa; Master of Science degree, University of Utah; Doctorate, Rush University.
Passion:Diagnostic precision, including understanding the nuances so each student receives the right treatment.
Chief Branding Officer, Director Business Development
Daniel Pontius
"Your job is so cool! I want to be in marketing when I graduate." -student
Servant leader, Strategist and Marketing Geek –
With over 20 years experience, Daniel wears many "business hats" with style. Marketing, strategy and branding are his skills, but his passion for helping kids came while working in the hospitalized children's healthcare industry (development and fundraising), for most of the children's hospitals in the USA, Puerto Rico and Canada. Daniel oversees the Telos media presence in the mental health industry and a growing worldwide community who love Telos. Mentoring Telos to new levels of awareness and growth and spreading the message of hope that Telos offers to thousands of individuals and families. Understanding what Telos does is the first step to loving what Telos does. Meeting families whose lives have been changed forever, is a joy Daniel thrives on. Telos is the "real-deal", he added, and he loves seeing happy, thriving teens and young adults, graduating, who 1-year earlier didn't see much hope. What a difference a year can make!
Education:BS Marketing, MBA
Passion:Helping kids succeed in slow and steady ways.
Student Living Director-Geneva Campus
Scottie Wilson
"Scottie is one of the deepest contributors for the work we do at Telos. He is quick to come up with solutions to vexing problems and arrange his efforts to build those around him. We are lucky to have him on our team."  – staff
Scottie is a powerhouse at the Geneva Campus. He is a strong advocate for student success. With a thoughtful and caring approach Scottie and the Student Living Team put their hearts and souls into students. Working day (and often night) for the well being of each student, Scottie keeps the campus intact and promotes a positive environment.
Scottie comes to Telos having worked with youth for more than eight years as a residential mentor and lead supervisor. He has a great passion for being active physically and mentally and encourages students to do the same.
Education:Studying at UVU
Specialty:Creation and implementation of systems, providing training and oversight for the Student Living Team and maintaining an emotionally safe staff and student environment.
Nursing Director, LPN
Sarah Walden
"Thank you so much for all of the kindness you've shown to our son and family.  We will miss you.  You are what makes Telos special.  Thank you for everything! -parent"
The nursing team has one goal, to keep track of all the boys, make sure they are healthy, meds on time, sunscreen and safety first!  Whew, you might say they "think like moms", and in Sarah's case she is a mom. Her two teen sons are autistic and if there was ever anyone who "gets it", it would be Sarah. With over 20 years as a nurse she has seen it all, in so many ways.  She has served in family practice, orthopedics, asthma and allergy clinic, corrections and now, her favorite, Telos. Keeping students safe and well cared for is vital, as parents place a great deal of trust in the nursing staff and we don't take that lightly.  Sarah runs the nursing department with precision. She is amazingly organized and task oriented. 
Education:LPN
Passion:Keeping students safe
Noteworthy:Over 20 years in nursing
Primary Therapist, ED Telos Discovery Space Ctr
Ryan Anderson
We were beginning to run out of hope, when we met Ryan. He seemed to grasp what was going on with our son so quickly, and he found a way to connect that worked through his resistance. He always seemed to have hope, vision, and a path forward, even at our darkest times. He was so helpful to us as parents, too. We still can't believe we were lucky enough to get to work with Ryan!   -parent
Dr. Anderson is a pioneer in experiential and immersion therapy. He operates a therapeutic starship, of all things and his passion and love for student's success bursts through somewhere above earth and before you reach the wormhole. The many modalities he orchestrates all come together for students and families to learn insights and skills like family communication, executive function, problem solving, and others. Ryan and his team are experts at opening therapeutic doors through roleplay and group dynamics that feels like play. These rich insights from an out-of-the-box approach applies grounded therapeutic modalities that create "aha moments" for the healing process.
Education:Ph.D. LMFT, MedFT, BS in Marriage, Family and Human Development, Brigham Young University, Ph.D. in Medical Family Therapy, East Carolina University
Passion:Passionate about students learning to capitalize on strengths and embrace the supports needed to live a sustainable life filled with meaning, connections, and direction
Noteworthy:10 publications, including two books
Primary Therapist, Director Research, Chief Quality Officer
John Hall
"John Hall far exceeds our expectations and stands head and shoulders above the many in his profession that we have worked with. John quickly gained our son's respect, which was in itself, amazing. John's ability to relate to our son has been one of the major keys to our son's success." – parent
Being great at treating teens and young adults is only part of the equation. Seeing a