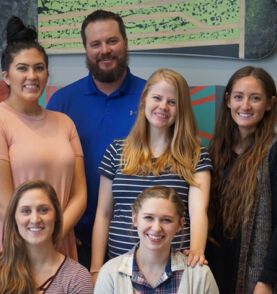 Great Experiences Begins with Great Staff
Telos finds, recruits and loves our staff. They put countless hours, including their hearts and souls into the program. It is all about the students and the passion shows through every day from our staff. They laugh, work, play and sometimes even cry with our students. In the end we hope it builds a foundation that students can stand on for the rest of their lives.
The Telos Team
All
Telos Academy
Carter House
Leadership
Therapists
Telos U
Geneva
Vineyard
Admissions
Executive Director, North Campus
Barry Fell
"Barry is a warm and self-revealing person with whom both our son, and us are able to easily relate. His flexibility in the treatment process allows Barry to re-evaluate therapeutic approaches in order to identify and use those that will work best with our son. However, he has also not been afraid to push our son, and us out of our 'comfort zones'. Through his insightfulness, Barry never misses an opportunity to teach 'life lessons' to our son regardless of where they happen to be at the time. Our son has consequently been able to progress at Telos, and advance towards the achievement of his goals that were outlined for him within the first month of his admission." – parent
As a veteran in the mental health industry more than 20 years, his story began with his Masters in Social Work from University of Utah. Currently the Executive Director, Mentor and Visionary, he runs one of the most vibrant, caring programs in the industry. His passion for Telos is evident in his belief that everyone deserves a chance at becoming their best or as Telos says "Ultimate Potential".
Barry has taken the Center Street Campus to new heights as students and families come to experience the hope that Telos offers teen boys and has offered to over 900 families. Each family comes with specific individual needs and hopes. In a methodical and clinically-sophisticated manner walk through the individual needs to remove the hurdles the student and family face as barriers to success. Barry maintains a mind-boggling team of experts all assembled to do one thing…support the student and his family to help them accomplish some of the most rewarding months of their lives.
Education:University of Utah, Master of Social Work
Experience:Active therapist, 20 years
Passion:Advocate for teen boys and helping them find themselves
Certifications:7 Challenges Certified
Executive Director, South Campus
Monte Criddle
"Thank you for seeing my son and being able to reach him in a way that no other helping professional has been able to."   -parent
If you are considering residential care for your young adult, consider that all great results come down to a culture of excellence that begins with leadership. Monte is that leader—an outstanding steward of parental trust and reliability. Monte runs a premium program for young adults that is considered the best in the industry by many. As Executive Director, his highly trained and certified team uses proven, clinically sophisticated modalities to deliver astounding, life-changing results for students and families.  With decades of clinical experience, he and his team are well-positioned to give students an experience that will be a turning point in their lives.  Monte's team at Telos U has one goal, and that is to give individualized answers to emotional hurdles that enable a launch into adulthood with a principle-based life.
Education:BS Family and Human Development, Masters, Marriage and Family Therapy
Credentials:LMFT
Passion:Change, and doing it with dignity
Clinical Expertise:Complex family dynamics, depression, anxiety, human connection
Clinical Director - North Campus
Drew Davis
"Drew has been a lifeline, a guide, and a support throughout my son's time at Telos, and while always professional, has felt like a friend celebrating successes and supporting and encouraging me through challenges. Drew is skillful at combining his knowledge and intuition to know exactly how much to encourage and how much to push my son at any given time and in any given situation. He is incredibly responsive and always listened to and considered any concerns, questions, or suggestions that I had, and as a parent, whose child is away from home, knowing that you are being fully heard and listened to is invaluable. His guidance has helped my son to make incredible progress and growth, develop essential skills, and become more aware of his own strengths and challenges, and it has also helped me grow into a better person and parent. Thank you for everything!" -Parent
As a "dyed-in-the-wool" Buckeye drew loves his roots from Ohio. His fun-loving approach to life builds deep bonds that his students thrive on. As an accomplished pianist and singer, music is one of his passions and it surfaces in his approach to life, therapy and counseling. Years ago as a brand new intern earning a Bachelor Degree in Social Work from Weber State University, Drew embarked on a therapeutic adventure with Telos that continues to this day. Soon after, earning his Masters Degree in Social Work from Brigham Young University, he was ready to perform what he had practiced for so many years. Using his extensive background with youth and family treatment in residential care, outpatient treatment, public education and numerous volunteer youth organizations he was ready and passionate about helping teens find hope. With expertise in treating depression, anxiety, learning differences, processing differences and attachment disorders, as well as, EMDR certified, Drew has a deep well of experience to draw from.
Education:Masters, Social Work - Brigham Young University
Credentials:LCSW
Passion:Loves music and enjoys sharing with students
Certifications:7 Challenges Certified
Clinical Director - Telos U
Trevor Earl, PhD
"Trevor was able to see our child differently than any prior therapist had and those insights allowed him to offer successful alternative styles of treatment that had never before been presented."  -parent
Trevor brings over a decade of experience in residential treatment, beginning as a residential staffer and working into the role of a therapist upon graduation. Prior to Telos, Trevor published research on Best Practices in Residential Therapeutic Settings and evangelizes those principles, benefiting students and staff at Telos and currently is an adjunct professor in a Mental Health Counseling, Masters Program at Westminster College.
Working with clients under numerous challenges from anxiety/depression to trauma and oppositional-defiance, Trevor's strengths lie in his clinical excellence and as the Clinical Director at Telos U brings a wealth of knowledge and an engaged leader, with the ability to clinically move the mission of Telos forward. Trevor's passion for youth is evident in his academic rigor and professional accomplishments that benefit youth.
Education:PhD-Oregon State University, Clinical Mental Health Counselor
Credentials:PhD, CMHC, NCC
Specialty:Passionate about helping his team deliver the highest level of care
Clinical Expertise:Experiential, Acceptance Commitment Therapy, EMDR, Psychodynamic Approaches, Value Based, Cognitive-Behavioral
Admissions Director: North Campus, Board Member
Kristin Williams
"As the Admissions Director, I saw Kristin as the face of Telos. Now that my son has been at Telos, I see that her love and commitment to excellence is truly representative of Telos as a whole." – parent
Kristin Williams is a board member and packed with enthusiasm for our students. Not a day goes by that Kristin is not laughing with or "high-fiving" students on campus. Her attention to detail is what puts every mom's heart at peace, knowing that Kristin is watching out for their child. Kristin joined Telos from the public school system of 15 years which includes being the principal at Mound Fort Middle School / Junior High. She is the former director of the Family Community Resource Center at Central Middle School, and has also worked as a counselor at Lewis Elementary School. Her passion for the mountains of Utah and being fit is a big part of Telos' recreation therapy. Kristin believes strongly in the individualized treatment model of Telos and brings her "A-Game" everyday so that each student can feel the love of concerned friends. Her academics include Master's degree in Counseling Psychology and an Educational Administration License from Utah State University.
Education:Educational Administration License - Utah State University
Passion:Advocate for youth to find sustainable wellness and tools for success
Certifications:7 Challenges Certified
Outreach Director, Co-Founder
Tony Hansen
"Tony teaches us that no one is too important to serve. When I see him watering the plants, mowing the grass, and attending to more menial tasks, I am reminded that Telos is more about service than position." -staff
Tony is a California native with a big heart. His love for helping young men and their families find unity as they work toward achieving their potential, began years earlier in the struggles, relationships, and mentorship Tony experienced in his youth. This desire to serve led Tony to the world of mental health services, studying at Brigham Young University. He went on to get a Master's Degree at the University of Utah in Educational Psychology. After five years as a therapist in both wilderness and residential settings, Tony recognized a need for a school founded on relationships and individualized treatment. From this, Telos was born. This passion to help Telos continuously improve while keeping it focused on the founding principles has served Tony, Telos, and countless families over the last 15 years.
Education:Masters, Clinical Mental Health Counselor (CMHC, M.Ed)
Passion:Healthy living, nature and positive lifestyle
Aftercare Specialist
Phil Childs
"Phil is a walking billboard for the well-balanced life" -staff
An accomplished professional music artist, Phil has done about all there is to do at Telos.  A long-time veteran of the program, he has worked in every department including chef, mentor, lead supervisor, substitute teacher, transport staff, anthem advocate, and EF coordinator. Phil is a living example of someone who lives the mission statement and does all that he can to help the Telos students thrive.
EF Coordinator - North Campus
Matt De La Mare
"I really do appreciate all the hard work you invest in our team, the students and your coworkers. You are always so willing to step up to the plate." – Co-Worker
Matt has worked with adolescents in residential treatment centers for nearly 10 years in various roles. Through those experiences he became proficient in helping students identify primary learning challenges and providing support, specifically in executive functioning. He loves this work and plans to continue a career in mental health. He has attended Brigham Young University Provo and Idaho in pursuit of educational goals. In his role at Telos he is the Executive Function Coordinator and works one on one with students to identify and grow in various areas such as organization, stress tolerance, flexibility and social skills. Outside of work he enjoys cooking, hiking, camping, shooting and spending time with his family and dogs.
COO, Co-Founder
Tony Mosier
"Tony has the unique ability to see past surface complexities to the heart of an issue. With professionalism, kindness, expertise, and great wisdom he approaches all aspects of his work at Telos. He saved my son's life, and the organization he helps lead has saved hundreds of others." -parent
Tony loves working with youth. By helping them reach their personal best, he reaches his. Achieving his undergraduate at Brigham Young University and a Masters of Science in Marriage and Family Therapy from Utah State University Tony immediately felt he had something to give back. Telos became a reality in 2004 because of Tony's (and partners) vision to build a program that would be a place that heals and re-builds families by offering a clinically-advanced approach to solving mental health needs. Tony has invested his entire career of 20 years working with youth and young adults of all ages and needs. In addition, Tony oversees the operations on all campuses and all services Telos offers. This is no small task, as the program demands individualized treatment. As a practicing therapist he has built and continues to build a therapeutic rigor that is second-to-none.
When not with his students he can be found developing system programming, overseeing quality improvement, or building innovative solutions. In addition Tony has accepted the nomination to serve as the NATSAP President (National Association of Therapeutic Schools and Programs) for the next 2 years.
Education:BYU Undergraduate, USU Masters Graduate
Passion:Helping youth and young adults
Affiliations:President of NATSAP
CEO, Co-Founder
Craig LaMont
"At the last Family Days triathlon my son was the last racer out of the water. I was standing on the dock and could see him slowly swimming in. As he got closer I could see someone swimming alongside him. To my surprise, Craig LaMont was in the water with Dan encouraging and coaching him along. It struck me–this is an amazing place filled with amazing people. The CEO of the company is in a wetsuit, in a lake, personally attending to my boy. Nowhere but Telos." -parent
Craig is passionate about life. He shares that passion with his family, friends, students and staff. Often Craig is heard in the halls of Telos humming a tune and at times singing out for all to hear.  Craig loves Telos. As a co-founder, there is nothing he won't do to help make a student's stay the very best experience possible. In addition his full-throttle approach to life also includes other interests like coaching youth athletics, board service, church service, community service, and outdoor sports.  Craig has founded, owned and operated a number of residential treatment centers and is known in the industry as a premier authority in consulting circles. Craig is a Licensed Marriage and Family Therapist and has worked in and studied the mental health practices since 1990. Graduate degree is a Master's in Marriage and Family Therapy at Brigham Young University.  Craig is passionate about serving teens and families and has dedicated his professional and volunteer time to that end.
Education:Masters, Marriage and Family Therapy
Passion:A dedicated passion to build a premium option for youth that really works
Math Teacher - North Campus
Meliama Uyena
"Thank you for always being available and helping me find answers to my questions" – Student
Meliama has over ten years of experience with teaching others math. She excels in teaching alegebra, geometry and Utah's math 2 & 3. She has a passion for helping others to understand and apply what they are learning in her classroom.  When she isn't teaching, you can find her spending time with her friends and family, playing dodgeball, hiking and making others laugh.
Education:Brigham Young University, Bachelors in Mathematics Education
Substance Use Disorder Counselor - Carter House
Kevin Owen, LSUDC
"Kevin is amazing at maintaining a heart at peace and seeing the students for who they can become rather than who they are" – Co – Worker
Kevin has dedicated many years of his life to the field of substance use disorder counseling. He has worked in wilderness programs, out patient recovery, and many roles here at Telos. He has an amazing ability to help transform the lives of others by helping them to overcome the obstacles that get in their way. When he isn't working you can find him in the mountains, rock climbing, or spending time with his wife and son. 
Education:Utah Valley University, Licensed Substance Use Disorder Counselor
Certifications:7 Challenges Certified
Lead Supervisor - Carter House
Ben Waldrip
"I want to thank you for being an advocate for our son. You truly have been a blessing to him and us. " – Parent
Ben loves leading and the challenge of culture building, with both students and staff. The challenge of building a positive culture of care and accountability is one that invites growth in all who embark on it. He really believes in the value of the relationship when it comes to treatment. He puts the majority of his efforts into building strong, meaningful relationships through one on one conversations and engaging in healthy recreation with those he works with.  Outside of work he loves to snowboard and be in the mountains. If he is not doing one of those things you can find him either watching or playing baseball, basketball, or football.
Certifications:7 Challenges Certified
Life Coach - Telos U
Kame'e Parker
"Kame'e is an incredible addition to the life skills team! She's the literal definition of a heart at peace, and I feel incredibly blessed to work alongside her." – Co-Worker
Kame'e has previous experience working with individuals who have been diagnosed with autism and other various mental health illnesses as a registered behavior technician. This experience has helped her to develop a love for these individuals and desire to advocate for them and help them in finding their ultimate potential. Other than work, she loves to play volleyball, boogie boarding/ body surfing, and being with friends and family.
Education:Brigham Young University, Bachelor's Degree in Family Studies with an Emphasis in Human Development
Parent Liaison - North Campus
Erin Schmitt
"I want to thank you for being so helpful and kind leading up to and during the Family Days program.  Your concern and guidance helped our family navigate a challenge and turn it into a positive experience."  Telos Parent
My name is Erin Schmitt and I am the Parent Liaison for Telos.  A little bit about me…
I live in Woodstock, GA

Married 20 years in August

3 kids, 1 dog

I enjoy yard work, baking bread from scratch, and the Atlanta Braves!

In my previous life, I was a dietitian and a nurse, I've always enjoyed taking care of people
Our experience in choosing to send our son into treatment was the hardest decision we have ever made.  I remember feeling so lonely and isolated during that time.  Even with supportive friends and family, it's hard to find people who can truly understand and empathize with what we were all going through as a family.  
Throughout our time at Telos, we were able to gain so much insight as parents and meet other families who were on the same journey as us.  For me, meeting other parents and being able to connect with them and share the journey together helped so much.  I am so happy to now be offering that same support to all the great families at Telos.  The journey is so full of ups and downs and It is nice to be able to use what we have been through to help and encourage others.  Telos parents are the BEST!
Education:BS in Nutrition from Auburn University and BS in Nursing from Kennesaw State University
Primary Therapist - North Campus
Adam Heldibridle
Adam is simply a great person and an even better friend. – Co-Worker
Adam started his journey in mental health back in October 2003. He has worked for programs in Florida, Utah, Vermont, Montana, and New Mexico. He has worked in several positions, some of them being: senior field guide, field medic and medical coordinator, assistant field director, field director, clinical assistant, and primary therapist. Adam has worked with both adolescents and adults, men and women, and on a variety of issues such as: substance abuse, anger management, anxiety, depression, bipolar disorder, borderline personality disorder, autism spectrum disorder, and trauma related issues. Adam strongly believes in the critical importance of family work and strengthening the positive connections in our lives whenever possible. When Adam isn't working, you will most likely find him somewhere in the wilderness. He has always felt a strong pull and deep love for the wilderness due to the quiet wild places beyond the roads and trails.
Clinical Expertise:ART, EMDR, ABBT, DBT, CBT, Narrative Therapy, Animal Assisted Therapies, Music Therapy, and Art Therapy
Credentials:CSW
Education:Bachelors: University of New Mexico, Masters of Social Work: Arizona State University
Certifications:7 Challenges Certified
Maintenance and Facilities Director
Carlos Rodriguez
"After working with you Carlos, my son feel more confident in himself" – Parent
Originally from Peru, Carlos worked in the construction industry for decades before coming to Telos. Carlos not only makes sure the Geneva campus maintains a high standard of excellence, he also oversees and mentors several students who work in the Maintenance department. Having five sons himself, Carlos loves to mentor the students at Telos U. 
Human Resources Director
Camie Shepherd, SHRM-CP
"Camie is dependable, has amazing leadership skills, work ethic, all while having an enthusiastic attitude while doing it." -staff
Camie started at Telos as a PrTMS technician in 2019 as part of the Neuro Health team. She moved to the administrative assistant role at Telos U and worked in that role for a little over a year before joining the HR team. Camie is a true people person and loves helping those around her. She is organized and a systems thinker who is always seeking to improve the workplace. Camie's hobbies include camping, riding four-wheelers, scrapbooking, and quilting.
Passion:Driven for business excellence and compliance for best family experience
Elective Teacher - North Campus
Jared Salmond
"Jared is a man of great integrity. He is one of the hardest working individuals I know. He has a great work ethic." – Parent
Jared has taught art since he was 16 and he loves to use his creativity to help young people learn. He is an author/illustrator of children's picture books and has a degree in illustration from Utah Valley University. He loves his wife and two boys. He enjoys watching movies, hiking, playing video games, and most geeky things.
Education:Utah Valley University, Illustration
Life Coach - Telos U
Natalie Savage
"Natalie is always a joy to be around. She is an amazing life coach and has helped grow Telos through chairing committees and many other things. She is professional, caring, and kind. I have enjoyed working on the same treatment teams as her and am always impressed by her hard work and how she is able to help her students and her coworkers. Thanks for being awesome Natalie!" – Coworker
Natalie is one of our most seasoned life coach. Having worked at both campuses she excels at helping our students reach their ultimate potential. She has come to love the mission of Telos and is example of someone who lives it. When she isn't working you can find her on a run, playing volleyball or soccer or being outside enjoying the beautiful nature that Utah has to offer.
Maintenance and Facilities Director
Jose Falcon
"Jose is always happy and is willing to do what he can to help provide a physical healing environment for the students" – Co – Worker
Jose has been in the Maintenance industry for over 20 years. His motto is that he loves "bringing new life to broken things". Jose does everything from plumbing, electrical, carpentry drywall, and painting on the Center Street campus. He never gets bored.
Lead Supervisor - Telos U Apt G & H
Bethany Richmond
"You always make time for me and I really appreciate it. " – Student
Bethany loves working at Telos. She is a great listener and really strives to build relationships with all of the students on her apartment. She is always willing to do what she can to help her students feel safe and heard. When she isn't working she loves being outside and spending time with friends and family.
Medical Director
Dr James Palmer, DO
"My son came to Telos having tried nearly every therapy and medication known to man. We had tried so many interventions, the waters were muddied as to what was effective and what wasn't. Dr. Palmer took a careful and conservative approach to understanding my son's psychiatric needs. He worked closely with the other professionals at Telos to simplify and streamline the medicines until we had a clear picture of what was needed." – parent
Dr James Palmer brings a substantial background in mental health for teens and young adults that Telos thrives on. His passion for helping kids is evident in his attention to detail and outcomes.  Each student brings a unique blend of hopes, fears and needs and Dr Palmer spends the needed time with each student to help stabilize and support each need.The Telos vision asserts that "diagnostic precision" is a key objective in each student's treatment. Dr. Palmer takes a conservative stance regarding diagnoses and patiently works toward a deep and comprehensive understanding of what each student is dealing with.
Education:Medical School - Des Moines University, DO / General Psychiatry Residency - Maricopa Integrated Health System / Child and Adolescent Psychiatry Fellowship - Cambridge Health Alliance/Harvard Medical School
Passion:Clinical excellence, diagnostic precision and understanding each student's needs
Certifications:American Board of Psychiatry and Neurology Certified
Primary Therapist- Telos U
Ian MacGregor
"My son has been working with different therapists for as long as I can remember. You're the first one I have seen him bond with and actually look forward to coming to sessions with!" -Parent
Ian was born and raised in Central Pennsylvania where he learned to love adventure, the outdoors, playing sports, riding bikes, swimming, hiking, camping, and skiing. He has continued to work, study and travel, sometimes all at the same time. From the east coast to Mexico, Ian has enjoyed the beauty of the outdoors while working in the Mental Health field. He received his Master's in Clinical Mental Health Counseling from Lock Haven University. An advocate for diversity, Ian values cultural competence in his therapeutic work.  He uses a strengths-based approach to help young people unlock hidden abilities, enabling them to find deeper happiness in life.
Education:Master of Science in Clinical Mental Health Counseling, Lock Haven University 
Credentials:ACMHC, NCC
Modalities:Client-Centered Therapy, Solution-Focused Therapy, Multicultural Counseling, Strengths-Based Approaches
Athletic Director
Trevor Iosefa
"Trevor told me the world has enough great athletes.  The world needs more great people." -Student
Trevor is a long-time veteran of Telos.  He has spent years helping students in the residential department reach their ultimate potential.  He excels at inspiring students and helping them find the best lessons that can be learned from athletics.
Specialty:Team Dynamics and Culture
Lead Supervisor - Telos U Apt E & F
Korley Jones
"Korley went out of her way to help keep us informed. It meant a lot to us." – Parent
Korley has worked for a few years at Telos in various roles. She loves interacting with the students and helping them to achieve their goals. Korley grew up in many places as she traveled due to her parents work and learned many life lessons from those experiences that helps her connect and help others. When she isn't working you can find her outside or spending time with her dog.
Education:Brigham Young University, Bachelor's Degree in Family Life Sciences
Life Coach - Telos U
Jennifer Mills
"Jennifer is awesome. That is really all that needs to be said but I will say more. She is always happy and is amazing with her students. She has so much patience and is willing to do whatever she needs to help her students. Thanks Jennifer for everything that you do!" – Co-Worker
Jennifer has been working in the mental health field for the better part of 8 years and has experience working with individuals who have been diagnosed with various mental illnesses. Working in this field has helped her to develop not only a compassion for those who may struggle, but also a love for all people, and a desire to help them reach their fullest potential. Outside of work, Jennifer loves to sing, travel, meet new people and experience new cultures. Her singing has brought her to perform all over Utah as well as parts of Japan.
Education:Brigham Young University, Bachelor's Degree in Family Life Sciences: Human Development
Neurofitness Director - South Campus
Justin Levine
"Justin's smile and positivity is infectious. Plus, as a former Telos student and success story, he is a role model and inspiration for all who walk through our doors". – Co-Worker
As a former Telos student, Justin knows the ins and outs of the Telos program from both sides. His invaluable experience has allowed him to connect and inspire students and parents on a deeper level. He knows that through hard work and dedication, goals can be achieved and change can happen. Justin was an All-American runner in college and continues that passion by helping students find modes of exercise that they enjoy and helps them to see the benefits from it.
Education:BA Neuroscience Bates College
Expertise:Undergraduate Full-Year Neuroscience Research Thesis on Neurofitness, titled, "Cardiovascular fitness effect on affective and cognitive functioning through differing daily exercise regimens"
Life Coach - Telos U
Madi Polson
"You are super easy to talk to. Thank you for being such a great listener and not judging me" – Student
Madi has many years of experience working in residential treatment. She loves helping and guiding students who are struggling to find their way and help them achieve their goals. Outside of work, her world revolves around her adorable puppy Scout. She is a nature enthusiast, and you'll often find her hiking, camping, and exploring the great outdoors.
Education:Brigham Young University, Bachelor's of Life Science in Exercise & Wellness
Science Teacher - North Campus
Kylea Custer
"Kylea has the ability to maintain healthy mentor-to-student relationships by holding consistent boundaries while having fun. Kylea is dedicated to her work and often goes above and beyond what is expected of her in her role. She has proved she is one of the biggest team players." – Coworker
Kylea has worked with teenagers for many years in several different capacities. Through her experience, she has found a joy in helping and assisting others to learn and grow which in turn has helped Kylea learn and grow as well. Outside of work, she enjoys being active and hanging out with her cats, doing photography and videography.
Education:Utah Tech, Bachelor of Science - Multimedia Journalism
Primary Therapist- Telos U
Erin Mason
"My child feels comfortable around you and can fully be themselves. That doesn't happen very often."– Parent
Erin brings expertise in autism spectrum disorder treatment to Telos U.  Her superpower is to build connections and put students at ease quickly. In speaking of the change process, Erin says, "My end goal is to empower the students. I want them to have opportunities to prove they can do hard things."  A happy personality is Erin's default.  She finds humor in the simple things and believes in having fun along the way.
"I want students to feel they can be successful in their lives. Sometimes the 'how' in making that happen gets confusing, lost, or out of reach. These challenges don't mean success can't be achieved; we must find what works for them. Discovering these ways together as a team is what drives me. "
Education:Utah Valley University, University of Utah. Bachelor of Behavioral Science, Psychology - Master of Social Work
Modalities:CBT, ACT, Family Systems
Life Coach - Telos U
Phillip Stewart
"I wish we could take you home with our child" – Parent
Phillip is passionate about preparing the up and coming generation to be ready to take on the world. He has worked in the mental health industry for 2 years and has grown to love seeing the change and potential in everyone. Outside of work he loves rock climbing, volleyball, and mentoring the youth in these sports.
Education:Utah Valley University, Bachelors in Applied Communication
Primary Therapist- Telos U
Wade Taylor
"Our son has never opened up and worked with us the way he has in our sessions with Wade. He has given us hope we can have a happy home life together" – Parent
Wade comes to Telos with a long history of helping youth and families.  A devoted healing professional, he has worked in the residential treatment profession for over 20 years. Wade is uniquely qualified to work with teens and young adults who struggle with processing issues and complex clinical profiles. His kind and focused attention gives students an opportunity to share, be heard, and learn, so they can progress and effectively advocate for themselves. Having worked with hundreds of students over the years, he is keenly aware of the need to look at each student holistically–understanding the impact of brain chemistry, brain wiring, learned behaviors, trauma, addictions, identity, and personality. When asked what is the most rewarding part of his job, Wade says, "seeing clients go from hopeless and disconnected from their support system to connected and full of hope."
Education:Master of Science, Utah State University, Family and Human Development
Credentials:LMFT
Modalities:CBT, DBT, Solution-focused, EMDR, TF-CBT, EFT, Motivational Interviewing
Recreation Coordinator: - South Campus
Michael Santos
"I've had a lot of therapists in my life, but you're the first one I really connected with.  I feel like you got me.  I was able to open up to you more than I have with any other therapist, and I was finally able to progress more than I ever have before."       – student
Michael was recruited by the Boy Scouts of America to develop and direct rock climbing and rappelling programs for their camps for 3 years. He then worked at Elements Wilderness Program as a field staff before transitioning to Telos. Michael is an EMT, is a Wilderness First Responder, and has finished the Single Pitch Instructor course through the American Mountain Guide Association. Michael is trained in Dialectical Behavioral Therapy, Cognitive Behavioral Therapy, and  7 Challenges Drug Abuse Counseling. Outside of Telos he enjoys many of the same activities he facilitates, including backpacking, rock climbing, ice climbing, canyoneering, flyfishing, paddle-boarding, skiing, and whitewater rafting. 
Educatio:Snow College, Associates of Science in Biology, Bachelors of Science in Nursing in progress
Learning Center Supervisor - South Campus
Michael Dawson
"Your actions speak louder than words, I can tell that you truly care about my son." -parent
Michael has spent several years working in the mental health field.  Starting as a crisis counselor he moved onto positions within schools and programs both public and private.  In recent years Michael has maintained a special focus on academic services.  He has taught 3D Printing, UAV, and Outdoor Leadership.  
Primary Therapist - Geneva
Joseph Johnson
"You've given me the tools and courage to overcome my pain and loss and find hope for the future."       – student
Joseph's end goal with students is all about their empowerment. He wants to help them better understand themselves, where they came from, and why they are how they are—at the same time, equipping them to identify and utilize healthy coping skills that can set them up for success in interpersonal relationships and professional pursuits. Joseph's witty humor,  creativity, and passion for art and music help him identify with our students. He has helped many families grow closer together and improve their relationships while also helping them walk through distress and uncertainty associated with youth and teenage suicidality. Joseph finds it rewarding to see his clients improve their overall well-being and find the parts of life they enjoy. "Seeing the shift in mindset is gratifying as they begin to feel more empowered and can independently solve or manage problems that used to baffle them. It's almost like you can see the light come on when you look into their eyes", he remarks. "They look alive and excited."
Clinical Expertise:ACT, Motivational Interviewing, Family Systems, DBT, CBT
Credentials:CSW
Education:CSW, UVU
Assistant Clinical Director - North Campus
Brian Allred, LCMHC
"Brian understands our son and knew exactly how to motivate him towards the changes he needed to make." – Parent of a student
Brian Allred, LCMHC has over three decades years of experience working with youth in a variety of treatment settings.  Over the course of his career, he has worked as a therapist, clinical supervisor, program director and clinical director. Brian has helped hundreds of youth and their families work through problems that include chemical addictions, mental health issues and behavioral problems. A self-described "gym rat," Brian enjoys a variety of sports and recreational activities, but his favorite pass time is watching his son play baseball and sing in the school choir. 
Education:University of Phoenix, MAEd 
Passion: Outside of education and therapy, his passion is Jiu-Jitsu
Certifications:7 Challenges Certified
Executive Director of Telos Discovery Space Center - South Campus
Dr Ryan Anderson, PhD
We were beginning to run out of hope, when we met Ryan. He seemed to grasp what was going on with our son so quickly, and he found a way to connect that worked through his resistance. He always seemed to have hope, vision, and a path forward, even at our darkest times. He was so helpful to us as parents, too. We still can't believe we were lucky enough to get to work with Ryan!   -parent
Dr. Anderson is a pioneer in experiential and immersion therapy. He operates a therapeutic starship, of all things and his passion and love for student's success bursts through somewhere above earth and before you reach the wormhole. The many modalities he orchestrates all come together for students and families to learn insights and skills like family communication, executive function, problem solving, and others. Ryan and his team are experts at opening therapeutic doors through roleplay and group dynamics that feels like play. These rich insights from an out-of-the-box approach applies grounded therapeutic modalities that create "aha moments" for the healing process.
Education:Ph.D. LMFT, MedFT, BS in Marriage, Family and Human Development, Brigham Young University, Ph.D. in Medical Family Therapy, East Carolina University
Credentials:Ph.D., LMFT, MedFT
Passion:Passionate about students learning to capitalize on strengths and embrace the supports needed to live a sustainable life filled with meaning, connections, and direction
Noteworthy:10 publications, including two books
Telos DEI Consultant
Dr. Sonyia Richardson
"Dr. Richardson has helped us have eyes to see our organization through the lens of equity. She has made a good program better."
Dr. Richardson is Founder and Director of the Mental Health Research and Practice Lab which is housed in the Urban Education Collaborative in the College of Education. This research lab partners with community leaders, thought leaders, and researchers across the country to develop cutting-edge innovative solutions for addressing mental health disparities and mental health needs for diverse populations. Additionally, Dr. Richardson was appointed as Interim Director of the Race and Social Equity Academy (RASE). This academy fosters the scholarship of practice and research focused on advancing racial and social parities within the community. Along with empirical scholarship, race dialogue will be supported through intellectual discourse, bringing together thought leaders in our community representing a variety of perspectives on race and social equity matters.
Recently, Dr. Richardson was appointed by Governor Roy Cooper to serve on the Andrea Harris Social, Economic, Environmental, and Health Equity Task Force. In this role serves on the Education Subcommittee and offers recommendations to the Governor's Office for addressing needs of diverse residents and communities in the state. She previously served a three-year term with the National Institutes of Mental Health, Adult Mental Health Interventions Subcommittee as a Public Reviewer. In addition to teaching, Dr. Richardson is the Owner of Another Level Counseling and Consultation located in Charlotte, North Carolina.
Dr. Richardson currently serves as a Delegate for the National Association of Social Workers North Carolina Chapter and was appointed by the National President to the Private Practice Specialty Subcommittee to provide expertise and guidance to private practitioners nationally.
Education: PhD, MSW, LCSW. Assistant Professor in the School of Social Work at the University of North Carolina at Charlotte. She possesses a Doctor of Philosophy degree in Curriculum and Instruction, Urban Education specialization at UNC Charlotte, a Master's degree in Social Work (University of North Carolina Chapel Hill), a Bachelor of Arts in Psychology (University of North Carolina Charlotte).
Primary Therapist - North Campus
Arthur Kleinfelder
"Our son is doing exceptionally well since returning home and a lot of that is thanks to you, keep doing the good work." – Parent of a student
In the past, Arthur worked in the prison system with some of the most challenging people, inspiring him to work with adolescents to help prevent them from going down that path. He has worked in residential treatment for the last seven years, successfully working with families from different cultural backgrounds and family dynamics to help them reunite. He is uniquely specialized in non-verbal communication. Reading a situation quickly helps him get to the issue's core. Arthur is a former psychology professor at Utah Valley University, where he continues to bring his passion for teaching. Outside of education and therapy, his passion is Jiu-Jitsu, where he just submitted his Black Belt Test. His experience with martial arts has given him the ability to learn courage, strength, perseverance, and the ability to teach people hard things.
Education:
-M.A. in Clinical Mental Health Counselor Argosy University
-Former psychology professor at Utah Valley University
Credentials:CMHC
Passion: Outside of education and therapy, his passion is Jiu-Jitsu
Certifications:7 Challenges Certified
Primary Therapist - North Campus
Sarah Manning
"I am grateful for you continuing to help me even though I didn't want to accept your help. You treated me with respect even when I didn't treat you the same. I am glad that you are my therapist" – Student
Sarah has worked several years in the residential setting working with young women experiencing suicidal ideation, suicide attempt, self harming behaviors, depression, anxiety, and neurodevelopmental issues. In addition, she has also worked several years in the private practice setting working with couples, families, and individuals for a diverse set of issues including problematic sexual compulsive behavior and trauma. Outside of work she likes to be with her husband and twin three year old boys. Going to the park, taking their two doodles for a walk, playing pickle ball, and cooking.
Education:Arizona State University
Credentials:LMFT
Passion:Learning new things and listening to podcasts.
Certifications:7 Challenges Certified
Student Living Director - South Campus
Scottie Wilson
"Scottie is one of the deepest contributors for the work we do at Telos. He is quick to come up with solutions to vexing problems and arrange his efforts to build those around him. We are lucky to have him on our team."  – staff
Scottie is a powerhouse at the Geneva Campus. He is a strong advocate for student success. With a thoughtful and caring approach Scottie and the Student Living Team put their hearts and souls into students. Working day (and often night) for the well being of each student, Scottie keeps the campus intact and promotes a positive environment.
Scottie comes to Telos having worked with youth for more than eight years as a residential mentor and lead supervisor. He has a great passion for being active physically and mentally and encourages students to do the same.
Education:Studying at UVU
Specialty:Creation and implementation of systems, providing training and oversight for the Student Living Team and maintaining an emotionally safe staff and student environment.
History Teacher - North Campus
Stacey Medley
"Your class is the first class where I've actually done well at school. Thank you for being so patient and loving!"  -student
I graduated with a Bachelor's Degree in Sociology from Brigham Young University. During school, I worked as a residential staff in several different RTCs.  After working for years as a staff and supervisor, I became the Residential Director of another local program. In that role, I became more familiar with how to help struggling teens heal and grow in a positive and healthy environment. I have years of experience working in RTCs, and I've loved every moment. After deciding to pursue a Master's Degree in Education, I was hired at a therapeutic boarding school as a Social Studies Teacher.  I love the challenge of working with youth and finding a way to help them succeed in school where they may not have been able to in the past. Outside of Telos I love to read, hike, camp, and spend time with my family.
Education:Undergrad: Brigham Young University; Graduate: Colorado State University Global
Assistant Admissions Director - South Campus
Taylor Rogers
Taylor has been with us every step of the way and has genuinely supported our family when we needed it.
Caring for the families entering Telos comes easily for Taylor. Her kind nature is a great addition to the Admissions Team. Taylor loves meeting families for the first time and watching them learn how Telos gives hope and new life to families. She has a unique opportunity to see families before Telos and as they leave, and it inspires her to see the "growth and empowerment" the young adults gain in the program.
Education:Bachelors Behavioral Science, Psychology emphasis - Utah Valley University
Physics, Chemistry & Biology Teacher - North Campus
Heath Bigelow
"Heath Bigelow is one of the good ones.  He truly cares about his students and it shows in every interaction."  -team member
Heath's biggest strength is his relatability. He excels at forming relationships and strives to be appropriately invested in the lives of his students.  As an instructor, his end goal is to help students feel like knowledge is worth the time it takes to gain it.  Heath has a special ability to reach the "difficult to engage" student.  We are lucky to have Heath on our team of all-star academic professionals.
PE Head Coach and Neurofitness Director - North Campus
Shaun Christian
"Shaun understands the link between my fitness and my mental health." – student
Shaun is an original Telos man.  He has been with the program since 2004 and takes great pride in the hundreds of lives he has improved through his fitness-based leadership and compassionate coaching.  Shaun works with our Elite Team–the students who want to put in the extra effort and miles.  He also is the bridge between the treatment professionals and the neurofitness program.
Specialty:Founder of T3 Endurance
Education:UVU, Fire Science
PE Coach - North Campus
Kodi Kleven
I want to improve. I want to build my strength and experience consistently. I've worked at a variety of jobs—but am currently a floor manager at Runners Corner. I love seeing how the ownership of personal responsibilities builds and strengthens the empowerment between the employee and customer.
Kodi Kleven – PE Coach, Center Street campus
Education:Full-ride Athletic scholarship BYU  while competing for BYU Women's Cross-Country/Track team
Campus Supervisor - North Campus
Lyndsie Thompson
"Thank you for always being there for not only my boy, but all of the boys. You are their biggest cheerleader and they adore you." – parent
Lyndsie began her journey in her youth having family members helped through treatment. Her passion and zeal for helping others grew out of that experience. Lyndsie is a veteran in the mental health industry and brings several years in residential care.  She is quick to laugh and share her high-energy approach to life and leadership. A defining point in her career at Telos is realizing she is the "mission statement" of  "helping others move towards their ultimate potential". As this resonates through Telos it creates an environment of healing, and she remarks "that is priceless". Lyndsie finds this work highly rewarding especially as students find their capabilities expanded, that helps them succeed.
Specialty:Loves changing lives of young people
Education:Associates - Dixie State, Finishing Masters LCSW - Utah Valley University
Clinical Director of Residential Care - North Campus
Brian McElligott
Brian is the only therapist who has ever been able to reach our son and achieve real progress with him. When one approach quit working, he'd go back to the drawing board and build a creative new approach. Eventually, building the trust with our son that no one else had was a big leap forward.  -parent
Brian is well versed in mental health for teens and young adults, with over 20 years in the industry. His pleasant demeanor and ability to connect quickly opens doors. Brian's background is robust, including helping teens and families who face attachment issues. Helping students trust and connect with their inherent worth is very rewarding. Brian loves to see families face difficult issues and learn to implement deep meaningful change in their lives.
Clinical Expertise:Narrative, CBT, Structural Family Therapy, Sandtray Therapy
Education:Bachelors Business Mgt - Utah Valley University, Masters Marriage and Family Therapy - Amridge University
Certifications:7 Challenges Certified
Associate Academic Director - North Campus
Curtis Gardner
"Curtis has spent countless effort and time in helping our son apply for college. In the end, we were delighted when our son got his acceptance letter to the Berklee School of Music! Curtis was excellent at working with our son, and helping him accomplish this important life goal!" -Parent
Student school schedules and graduation requirements are what keeps Curtis focused. He is an ardent believer in succeeding in school and paves a runway for Telos U students still finishing high school. The senior year can be tricky with many students having schooled in several locations and academies so Curtis and his staff stay vigilant. His passion for student success is evident in his zeal to help them succeed. They work behind the scenes so parents and students enjoy a normalized school experience like prom, yearbook and other traditional school activities in addition to classes.
Education:A.A. in Psychology - Eastern Arizona College, B.S. in Social Studies Education - Brigham Young University, M.Ed. in Psychology - Utah State University
Expertise:Passionate about students succeeding in school
HR Compliance & Safety Officer
Hayden Wilson
"Hayden is an example of someone who lives the mission of Telos. He is always going above and beyond to help make the students and his co-workers' lives easier. He is a great eye for systems and helps everyone to work smarter rather than harder." – Staff
Hayden has been with Telos for a few years now. He has been in several positions during his time here at Telos. He has been an EF coach, and the EF Coordinator. Hayden has now moved into being the compliance and safety specialist and is looking forward to helping employees and Telos as a whole run more efficiently.
Education:BYU-Idaho, Exercise Physiology
Director of Nursing - North Campus
Michael Shomaker
"Thank you so much for all of the kindness you've shown to our son and family.  We will miss you.  You are what makes Telos special.  Thank you for everything!" -parent
The nursing team has one goal, to keep track of all the boys, make sure they are healthy, meds on time, sunscreen and safety first!  Whew, you might say they "think like moms." In Michael's case, he thinks like a mom, dad, medical practitioner, and mental health advocate rolled into one.  Prior to Telos Michael spent 15 years as a pediatric psychiatric nurse for the State of Utah.  He has also been a professional chef and understands that "food is medicine."  Michael is at his best with those who are struggling with their worst.  Unendingly patient, he takes pride in running an organized department that assures safety while contributing to the heartfelt nurturance of the program.
Education:LPN
Passion:Watching people I care for make good choices
Academic Advisor - North Campus
Kelley Kessen
Kelley is highly relational and connects well with all.  Her positive outlook is contagious and her smile warms all situations.  She is exceptionally organized, is a systems thinker, and has great follow-through.  Her heart is in the game 100% of the time.  I love and appreciate working with Kelley on a daily basis and I appreciate all she brings to our families, students, and our team as a whole.  Thank you, Kelley, for choosing Telos – you are a gift to us. -team member
Education:Brigham Young University, BS in Psychology
Admissions Officer - North Campus
Andrea Carroll
"Andrea was my Utah mom, she helped me get through Telos. Having her encourage me nearly every day was what kept me together when I wasn't sure I could do it."  -student
There is nothing more important to Andrea than "her students". She is the "Utah Mom" to many who need that extra support and help. Her passion for the mission of Telos is evident as she walks the halls of Telos interacting with students. She has a son who struggles with mental health needs and knows first-hand how scary it is for parents and students who don't know what to expect next. Andrea loves the trust families place in her to help them find their way. As an Admissions Officer she takes this trust seriously and strives to go the extra mile. She loves seeing kids and families thrive and grow at Telos. It is particularly rewarding for her to play a part in helping them discover their new life.
Passion:Empowering families who need help navigating the mental health path.
Primary Therapist - North Campus
Alexis Valdez
To say Alexis changed the trajectory of our son's life would be an understatement.  She gained his trust through genuine care for his overall well-being.  -Telos parent
Alexis has worn many different Telos hats.  She started as a residential mentor carrying out treatment plan interventions with students outside of formal therapy sessions.  Eventually she joined the Human Resources team and dedicated her talents to training high level staff to better serve the needs of the students.  After receiving her advanced degree Alexis treated a variety of issues (specializing in substance use, anxiety, and depression) in an outpatient setting before joining Telos as a primary therapist.  Alexis's training suits her for viewing treatment through a deeply systemic lens, enabling her to create family-level change that supports students long after they transition home.  Alexis is a powerhouse of energy.  Her relationships with her students are full of life and warmth, inviting powerful change. Alexis uses the principle, "they don't care how much you know until they know how much you care."
Clinical Expertise:Solution Focused Therapy, CBT, Structural Therapy, Family Systems
Credentials:LMFT
Education:Bachelors of Psychology - Brigham Young University; Masters, Marriage and Family Therapy MFT - Utah Valley University
Certifications:7 Challenges Certified
Primary Therapist - Telos U
Emma Black
"Emma's talent is simply making me feel loved." – Student
Emma completed her graduate internship with Family Services in Salt Lake City. Her mentor was an ACT (Acceptance and Commitment Therapy) guru who taught her how to become proficient in helping clients using ACT interventions. Emma has worked with all ages doing individual therapy as well as couple's counseling. Her main focus is first building a therapeutic alliance prior to pushing for change. This not only contributes greatly to her satisfaction as a social worker but helps clients feel they have a safe space to heal through past and current psychological struggles. When not therapizing, Emma can be found playing with nieces and nephews or riding her Honda Fury… that is until she buys her own street bike.
Clinical Expertise:Acceptance and Commitment Therapy, Motivational Interviewing
Credentials:CSW
Education:Masters in Social Work, Utah Valley University
Primary Therapist - North Campus
Jessica Tanner
"Jessica was a perfect match for my rebellious teenager.  Her warmth, compassion and love of my child was evident. We are eternally grateful for her involvement in our family's life." -parent
Jessica is an expert at grief and loss, crisis management. Her open, direct approach to therapy is both positive and healing. With 12 years in the industry her authentic style is a boost to her students who feel safe and supported by her almost immediately. Jessica's end-goal and passion is to get students living productive healthy lives and who are engaged with family and surrounding community.
Clinical Expertise:Grief and Loss Specialities
Credentials:LCSW
Education:Bachelors Social Work - ISU, Masters Social Work - Eastern Washington University
Certifications:7 Challenges Certified
Primary Therapist - North Campus
Jackson Houmand
"Jackson is just someone who wants to be there for you. He will meet you at your level, help build you up, and show you how deeply he cares." – student
Jackson at Telos for years as a direct care staff before obtaining his graduate degree and taking on a clinical role as a primary therapist. He has a passion for building relationships and advocating for students to own their progress throughout their journey. Jackson approaches relationship-building through incorporating his own hobbies and passions like music and sports. He strives to make each student the "captain of their own ship," with the therapist there providing guidance and direction. As his empowering approach is carried out students steadily grow in confidence and skill.  A student of Acceptance and Commitment Therapy, Jackson believes in helping students own their solutions.
Clinical Expertise:ACT, CBT, Mind-Body-Bridging, Mindfulness
Credentials:CSW
Education:Bachelors: BYU, Masters of Social Work: University of Utah
Certifications:7 Challenges Certified
PE Coach and Consumer Economics Teacher - South Campus
Austin Stevenson
"Austin is the most astoundingly positive person I know. He always has a smile on his face.." -student
I have had the privilege to work with the fantastic students at Telos for the past five years. Working in both residential and Academic departments at Telos, I have gained helpful perspectives on our student's lives and how we can contribute to their overall well-being. My experience at Telos has helped me make meaningful relationships with our wide range of students, allowing for an even greater depth of healing and connection. I also am passionate about those who feel like an "underdog." Telos has been a great platform to allow me to help those students succeed. During my time outside of work, I can be found coaching high school varsity football/other athletics, outdoor recreation, and surrounding myself with good company.
Education:Bachelors in Psychology, Minor Degree in Community Health, and Associates Teaching License from Utah Board of Education: Utah Valley University
History and Art Teacher - South Campus
Richard McOmber
"You are very patient." -pretty much everyone
My past experience is in Technical Writing and Editing, back from the heady days of WordPerfect where I started as an International Documentation Editor.  I also taught at Utah Valley Community College for over ten years and watched it grow into Utah Valley University.  I have taught at a small, public high school as well.  I'm married with a son and a daughter, both of whom have young children.  I like spending free time with my King Shepherd dog and my motorcycle.
Education:MA (2) w/ graduate TESOL certification: Brigham Young, Utah State, and Idaho State Universities
Math and Science Teacher - South Campus
Tina Moore
As a powerhouse of patience and empathy, Ms. Moore exemplifies the best qualities of a gifted teacher. Tina is a geek at heart and loves science and math. Her enthusiasm carries over to the classroom, where her students also learn to enjoy these topics.
With a lifetime of experience working with learning disabilities (especially ADHD and processing disorders), Tina relates easily with students who struggle to "get it." Math and science are not easy.
In Ms. Moore's class, students learn about the world around them through science and math. They learn how to succeed in school and problem-solve, skills that carry over to success outside the classroom.  Tina's top priorities are building relationships and establishing rapport with each student. 
Education:Studying at Utah Valley University
Specialty:Passionate about problem solving in real life, not just math
Clinical Director - Geneva Center and Vineyard Primary Care and Assessment
Larry Smith
"Larry Smith is caring, thoughtful and creative. He has made a huge impact on Ryan. Beyond our son, the entire family has grown from Larry's willingness to offer a tremendous amount of time with each member. He is consistent and steadfast in his values. Ryan sees this and has started to adopt those same principles of happiness into his own life. We are deeply indebted to Larry." -parent
Larry is described by many as the "Dad of Telos." This honorary title fits well because years ago as a volunteer leader and counselor, Larry worked with youth and families for decades to strengthen relationships, improve communications, and overcome problems like depression, anxiety, substance use and addiction. These skills and wisdom are invaluable, even "dad like" for our students today. Larry has a strong desire to help kids succeed at life's challenges and through Telos achieve their ultimate potential. As a couples communications instructor and family life educator, Larry continues to provide training and instruction to families and students through the Telos Aftercare Services (TAS). Larry and his team are a vital connection to Telos after discharge, providing the foundation and training essentials to maintain a successful transition to home or school. Larry's team receives high-praise for their tireless commitment to our students. TAS is offered to students through the Academy program.
Education:CMHC, NCC, CCI
Credentials:LCMHC
Passion:100% Committed to helping teens and young adults succeed
Certifications:7 Challenges Certified
Director of Life Skills & Primary Therapist - Telos U
Kylee Shields
"Kylee gets me excited about (and reminds me to focus on) the important things in life. She has the gift of empathy and can easily see the potential in others. Her kind and compassionate heart makes her perfect for the career she's chosen."   -parent
Kylee's enthusiastic demeanor allows her to easily relate with students. Her success as a strength-based therapist, (using experiential, cognitive behavioral, and solution focused therapy) to find resolutions and healing to the most challenging cases, is powerful. For years, she has worked closely with young people suffering from attachment, substance use, depression, anxiety, oppositional defiance and bereavement, and a myriad of other psychological difficulties.  Her passion began early on while working in youth camps and treatment settings like boarding school and wilderness therapy. The passion grew as did her experience which included a short stint on the San Carlos Apache Reservation in Arizona. As a well rounded person, she finds joy in writing, running a non-profit and the outdoors.
Education:Licensed Clinical Social Worker (LCSW) - Arizona State University
Credentials:LCSW, ADHD-CCSP
Passion:Helping youth find hope in a confusing world
Clinical Expertise:Attachment, substance use, depression, anxiety, oppositional defiance, bereavement.
Education Director - South Campus
Laurie Laird-Trandum
"Your love and care have been so much more than your job. You have been a part of our entire family. Our daughter is graduating!! A year ago that goal was just a prayer not an expectation. Without the love you gave, it would not have happened."      -parent
With a tool belt filled with love and appreciation for her students and co-workers, it is easy to see why Laurie's department thrives in nearly every way.  She brings 20 years in the industry to Telos and is kind of a big deal in the academic leadership circles. As the Education Director on the Geneva Campus, Laurie works with our students who are 18 and older, to find paths that promote launching academically. Her approach is enthusiastic and almost magical, as she helps students see a vision that takes them beyond treatment and begins building a life that is sustainable and rewarding. Laurie is quick to see the baby steps of improvement and passionately celebrates all movement forward for her students. She loves her students and it shows in her lively interactions and smiles in the hallways.
Education / Endorsements:BS in Secondary Ed (Family and Consumer Science, Endorsements in Math and Biology), Masters in Educational Counseling - University of Phoenix, Special Education Certification - University of Phoenix, License in School Administration - Southern Utah University
Passion:Building connections with students and parents. Looking at the bigger picture of success.
Academic Director - North Campus
Kevin Kuykendall
"Kevin has a vision of academic excellence for the high school that surpasses what we have seen anywhere else. He has created a special setting of perfectly balanced support and challenge. My son is the happiest and hardest working he has ever been." -parent
A Seattle, Washington native with a zest for life and family. It doesn't take long being with Kevin before you realize he believes in what he does and brings a spice that students gravitate to. He instills confidence in Telos because he has seen first hand the successes that come to family and students. Kevin endorses the treatment plan in all the schooling aspects which is what makes the therapeutic integration with the high school experience, so successful. Kevin is passionate about the Titans. He can always be found in the school hallways laughing and mentoring students. With over 20 years in the public school system and now with Telos, the Titans have experienced structure, recognition, championships and the 1A school classification under Kevin's leadership. Telos maintains 10 varsity sports and the students thrive because of it. He loves working with families and has not only done so at Telos but also as a former junior high principal and hearing officer. Academically accomplished, BS in Spanish Teaching, Minor in Coaching. Masters, Educational Administration, University of Utah.  He is living the dream!
Education:BS Spanish Teaching, Masters, Educational Administration - University of Utah
Passion:Loves opening educational doors for students
Licenses /Endorsements :Special Education, Coaching and ESL
TRS - North Campus
Karl Jensen
"Karl is a treasure. He teaches me more in one afternoon fishing than a hundred therapy sessions in an office. Karl has helped me see my life in a new way. It's like the best therapy, but you don't know you're in therapy." -Student
Karl is a legend in the Recreation Therapy world. He has over four decades of experience in the profession and has helped save thousands of children. Karl has a unique gift – an ability to understand and validate a youngster's pain while introducing them to a better way of living through experiential learning. Karl loves all things outdoors and Native American culture. His four decades of service speak to a life of dedication to children and making a difference in their lives.
Passion:Loves all things from Native American culture and helping youth
Art Teacher - North Campus
Chase Henson
"Chase has the perfect combination of artisit skill and therapeutic technique." 
Chase grew up in Utah and started his career in the treatment and therapy field in 2008 as a caregiver for the mentally disabled. During that time, he studied Art at UVU in the BFA Illustration program until 2016.  He started his journey at Telos in 2018 as a staff and Campus Supervisor on the Geneva campus. He has experience teaching people from all walks of life. He has taught various workshops, and private lessons and is well versed in painting, drawing, photography, and many other mediums. He is now the Art teacher at the Center Street campus and is very excited to bring his skills and experience to help the students discover and develop their creative skills that they can carry with them after they graduate. Chase is a drummer in a rock band, and he is currently working on his mythological art book and board game called The Book of Olith.
Education:BFA Art-Utah Valley University
Licensed Substance Use Counselor - North Campus
Richi Biren
Recovery specialists can really only be great if they have walked-the-walk.  As a 32 year veteran in his personal recovery process, Richi is making a difference at Telos. Richi grew up in New York and raised his family in California before moving to Utah. He started off in this industry by volunteering with at-risk youth for years and then sold his business and went back to school for his Substance Use Counselor License to work full-time in recovery treatment. Now a 16 year professional, Richi finds great satisfaction in seeing the hope that begins to enter as teens and young adults learn the recovery process. As a parent of a child that has gone through substance use treatment, Richi acknowledges the difficulty a parent experiences through this process. He also cheerfully acknowledges the joy of seeing a child healed and wants to give as many children and youth that opportunity.
Education:License Substance Use Counselor
Recreation Therapy - North Campus
Maycie Gerber
"There's nothing better than watching a boy build confidence and important life skills as he masters a black diamond run, nails his first bike jump, or makes it to the top of a difficult climb."   -Maycie
Maycie has worked with youth for many years.  A lover of the outdoors, she believes time spent in nature can heal us from the wounds of living in an overconnected but relationally shallow world.  Maycie loves introducing people to new passions and lovingly pushing them beyond their comfort zones.  A master of "therapy without walls," Maycie loves helping people reach their ultimate potential.  
Education:Bachelors, Therapeutic Recreation and Management (Certified Therapeutic Recreation Specialists - CTRS)
Expertise:Passionate about using recreation to enhance therapeutic growth
Anthem Program Director
Aaron Johnson
"Aaron was quickly able to navigate the challenges of connecting with a 17 year old. He was able to inspire and lead our son through the life changing decisions and corrective actions that helped move him forward into young adulthood. Aaron was also very quick to develop therapeutic relationships with myself & husband in order to direct our attention to making the positive changes necessary within ourselves to best reconnect our family." – Parent
When it comes to commitment, Aaron is all in for teens. His career has been focused on helping families navigate difficult paths. With a Masters of Social Work and emphasis in the practice of narrative therapy from Portland State University, Aaron has built a career of caring and it shows in his student's outcomes. Connections come easily for him including deep, life-long bonds with families. Aaron's kind demeanor helps start the relationship and his love for struggling teens, influences them even after leaving Telos. Working with teens in residential treatment programs and ensuring child safety and family growth, with the state of Utah, began his path and career decisions. Experience helping teens with sexual behavioral problems through therapeutic wilderness treatment helped shape his primary areas of interest, including families of adoption and process addictions (pornography, video games and gambling). Aaron believes in a student's ability to succeed and find real answers and is a powerful advocate for troubled teens.
Education:LCSW, MSW - Portland State University
Credentials:LCSW
Specialty:Passionate around families of adoption, process addictions such as gambling, pornography and video games
Certifications:7 Challenges Certified