Telos Titans
A certified 1A High School, Telos High caters to bright students who became lost in traditional academic settings. Some students arrive with learning differences, others with emotional challenges that impede their progress. Regardless, Telos High holds the key to unlocking successful experiences in the classroom.
The secret to Telos High is a robust learning environment, led by teachers who are expert in the subjects they teach. Couple that with a therapeutic safety net of trained teachers in mental health support tools and a treatment team whose sole purpose is student success, the magic begins to happen. By allowing students access to that support during the school day and deferring now and then from classroom time for therapeutic deescalation and mindfulness, students are able to focus on schoolwork with a renewed determination.
Stats
Grades: 9-12
Subjects: All core subjects taught
Forum: Live classroom experience with teacher (Some students participate in online hybrid learning)
Structure: Low pressure, high structure
Sports: 10 varsity sports
The Telos Difference
As a 1A school certified by the State of Utah, students have premium access to an official high school format that is not overwhelming by design. Because of this credential, Telos has the ability for credit acceleration and recovery.
Students often come to Telos lagging in school credits and the high school is ready and equipped to help with actions that move a student's academics forward, for example, pulling credits from other schools previously attended and compiling which quickly begins to propel the graduation date closer.
The "can-do" atmosphere, combined with patient and generous one-on-one support to ensure assignments are always completed before leaving the classroom each day. The low pressure, high structure approach is a game changer for students. Alternatively some students come to Telos already succeeding at school and if able, accelerate their academic goals by taking AP classes.
Taking the ACT is easy since it is proctored right on campus by Telos High School. The high school is a full service school with one distinction, that Telos is hyper focused on the individual student's success.
All classes are purposely small (6-8 students) and are normalized for a quality high school experience. With caring focused teachers who have dedicated their careers to helping students with needs we have literally seen academic miracles happen.
All teachers are licensed and credentialed in their content areas. This means our teachers have a depth of knowledge that surpasses the "generalist" teachers who teach all subjects.Students are assisted in researching appropriate colleges. They are mentored through the application process from start to finish.Parents can enjoy daily monitoring of their students. By using our Powerschool online tracking system, teachers and parents stay in close contact.Telos High offers 12-week SAT/ACT preparation course taught by licensed, credentialed teachers.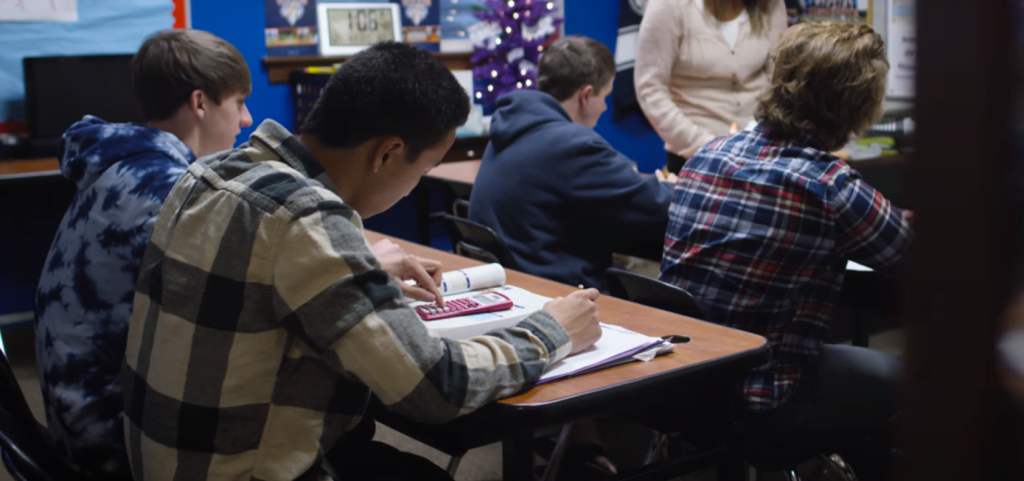 Class sizes are kept small (6-9 students). This enables our teachers to attend to students individually.Most classes employ teachers aids. In these classes students enjoy a staff to student ratio of 1:4. Our teachers (along with all Telos staff) are trained to understand NLD, information processing disorders, and executive functioning challenges.Students who have struggled in traditional settings are seen through new eyes as individuals with wonderful potential.
The normalized high school experience is important to Telos. One significant part is socializing. Each year Telos partners with a young adult women's program so students can experience a valentines dance that is not formal but lots of fun with the gym decked out in red/white decor, photo booths, prizes, contests and friends. Also a favorite is Prom and is everything you would hope it would be with limos, tuxes and dresses along with photos, beautiful decorations and lots of fun friends and professional DJ.
Schools are only as good as their teachers and staff. At Telos the teachers are all in and that includes field trips. Honor roll students are treated to a day on the town doing a mega activity like Boondocks where arcades, games, laser tag are all for the taking. Other school wide activities include fine art, museums, hikes and much more. Replacing a sedentary lifestyle with school, dances, museums and field trips begins to feel like success. It is, and it is life changing.
The therapeutic model does not stop at the classroom door. Teachers and mentors follow the therapeutic lead established by the Treatment Team. When students are in class it is a model of treatment first, school second. So when students find class overwhelming they can take a break to deescalate in the mindfulness center then return to class when ready. Individualized treatment is our commitment which is being continued in the classroom, activities and in the mountains. It is the attention to these details that propel our students toward success.